Features
Toying with Design – Q&A with Patricia Cué and Susan Merritt
Meet San Diego Design Week Advisors Patricia Cué and Susan Merritt, who have known each other for 15 years, a friendship blossoming over working at SDSU School of Art and Design and traveling together to participate in Design Week Mexico, where a conversation sparked about elevating design in San Diego.

Learn more about Patricia and Susan as they discuss their love for design and how their upcoming exhibition Toying with Design brought out the best in them.


Can you tell me a bit about your background and experience?

Patricia: I come from Puebla in Central Mexico and have been living in the US for 25 years. Even though I have thrived and feel very comfortable in San Diego, I still feel very rooted to my hometown and family in Puebla. In my role as a graphic designer, I have been a freelancer, an art director, a business owner, an academic, and now Creative Director at Mingei International Museum which is, hands down, the best chapter!

Susan: I was born and raised in the Carolinas where my first introduction to typography was hand-painted roadside signs along southern highways. I majored in Art with an emphasis in ceramics at Queens College in Charlotte, NC. I'm a founding member of AIGA San Diego and contributing writer to AIGA's Eye on Design blog. My husband, Calvin Woo, and I co-founded Design Innovation Institute to foster traditional and non-traditional areas of design and support student scholarships. We spend part of the year in New York. I sit on San Diego Design Week's advisory board and am an active member of the steering committee. I contributed essays and self-guided walking tours to SDDW in 2020 and 2021 and also exhibited my letterpress prints at the Athenaeum Art Center Print Studio.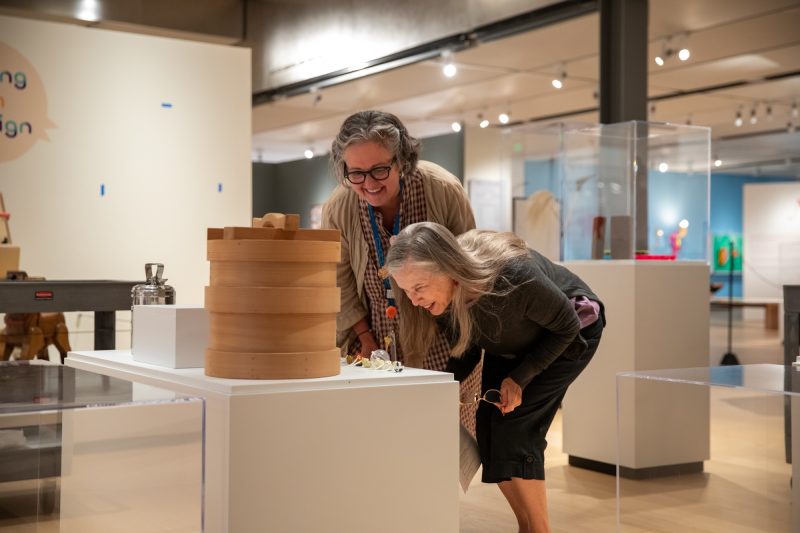 What first attracted you to Mingei and/or SDDW and made you interested in pursuing a career in the museum/design space?

Patricia: I have always loved museums as a visitor and as a designer. When I travel, museums are at the top of my list, they stimulate me emotionally and intellectually as well as inspire me as a designer. I especially love the role of typography in the museum's branding and in interpretation – it is a balancing act between the designer's creative expression and the voice and clarity of the content. I truly connect with the role of museums in society as depositories of culture and as open, multimedia spaces with the capacity to tell any story through objects. It's fascinating.

Susan: Mingei founder Martha Longenecker taught at San Diego State. Our time on the faculty overlapped briefly. I visited Mingei when it was at the University Towne Center. I've always enjoyed the exhibitions. My research into design history focuses in part on books, printing, and type. When Mingei initiated San Diego Design Week, I was invited to join the planning and steering committee. I love museums. There's so much to learn in the "seat of the Muses."

Can you briefly describe your role as a SDDW advisor?

Patricia: My role as advisor in SDDW has evolved every year since the first edition in 2020. I have taken part in the many fun and stimulating discussions that defined SDDW, contribute with ideas on themes and general structure of the program, reviewed submissions, connected designers and creatives, presented events on my work, and, mostly, been an ambassador year-round, encouraging people to see the designer in them.

Susan: We have an incredible community of talented designers in San Diego. My favorite part of being an SDDW advisor is the chance to showcase the contributions of deserving long-time talent and the opportunity to ferret out and present new talent. SDDW is now in its third year and counting. We look forward to SDDW23 and launching the World Design Capital in 2024. Success is evident as more and more people get involved.

How long have you known each other? How does your relationship with one another impact how you interact with each other and serve as SDDW advisors?

Patricia: We have known each other since 2008, when with Susan's support as Head of the Graphic Design Area, I was hired as Assistant Professor of graphic design at the SDSU School of Art and Design. After having retired from SDSU, Susan and I continued to stay in touch and our friendship really blossomed without the pressures of academia! In 2019, we traveled together to participate in Mexico City's Design Week and that really sparked conversations about design in San Diego and how we could elevate that.

Susan: Patricia and I taught together at San Diego State for 10 years. Since I retired, I'd say we've added at least another 5 years.

It's fun to collaborate with Patricia. We're good friends and colleagues who share a mutual respect for one another. We understand each other and complement each other well. We have similar backgrounds yet bring unique cultural perspectives. We both attended the Basel School of Design and SVA Summer Intensive (but at different times). We share a love of design as the thread that runs through everything and connects us to one another.

Where did the idea of Toying with Design come from?

Patricia: Given that Mingei has such an extensive folk art toy collection and for so long toys have been a favorite subject for designers, we thought that an exhibition combining folk art as essence and design as play would be of interest to the SDDW audience. Susan came up with the concept for the exhibition and we both curated it – a selection of familiar, toy-like utilitarian objects conceived by architects and designers for mass production paired together with folk art objects of use and unique craft pieces from Mingei's collection.

This collaboration brought out the best in both of us as designers – Susan's extensive knowledge of design history and her extraordinary research and writing abilities combined with my keen eye for finding unlike connections, patterns, and humor in the everyday.

Susan: In 2021, one of the SDDW themes was Design=Play. We thought it would be an interesting exhibition to show toys that designers collect alongside toys from Mingei's collection. It turned out to be too soon as the museum was just coming back home after an extensive three-year renovation. The exhibition got postponed and the concept developed into a search for everyday utilitarian objects, a hallmark of mingei, that have toy-like appeal. Fun, whimsical, humorous, engaging, emote a sense of play, and function.

I have so many favorite objects in this exhibition. There's a group of really talented designers in Israel that I learned about while doing research for the exhibition. I'm partial to their work because I discovered them as a result of this project. I love learning and discovering new things. And all of their pieces are humorous, cute, and joyful.
Where do you find inspiration?

Patricia: Everywhere! I am inspired by the spontaneous, local, and humble forms of craft and design I find while I travel or on the shelves at the grocery store. Contrast, random harmony, decay, and unconventional beauty in my everyday life, from architecture to plants and faces – all of life inspires me.

Susan: The challenge of solving a design problem gets my creative juices flowing. Otherwise, reading, writing, walking, traveling, meeting new people, and visiting museums are sources of inspiration.