Design your Design Week Experience
Browse the events on the Programs page.
Online live events with a timeslot require registration so you can receive the details to access the events.
Events that are "free all week" will be released on the event pages September 9 and will be available for you to explore on your own time.
Register for online live events now to reserve your space!
You'll find an orange REGISTER button on each event page.
Add the event to your calendar. (There's a quick link to do this right above the REGISTER button on the event page.)
Any links you receive for Zoom sessions are meant for you only. Don't share them with others!
Prepping for Design Week
Before your online live events start, log into Eventbrite and pull up your Eventbrite confirmation email(s). (Most events are on Zoom, but there are a few on other platforms such as Crowdcast and Kast.)
Will I be visible in the events I attend? That depends. Most sessions are presented as Zoom Meetings or Zoom Webinars. You'll be visible in a Zoom Meeting but not in a Webinar. You can always turn off your camera in a Meeting if you prefer not to be shown.
Get creative and download the SDDW Zoom backgrounds, if you'd like!
For Zoom sessions, log on a little early, in case you might need to do a quick registration to enter the session.
How to log in to Zoom
How to log in to Kast (for UX Speakeasy event)
How to log in to Crowdcast
During Design Week
Participate in online live sessions (registration required beforehand!)
Get out and explore on a SDDW self-guided tour (pick up some takeout for a picnic while you're out!)
Host a watch party on the Kast app (an app made in San Diego!)
Order takeout and have a conversation with friends.
Learn how to host a watch party on KastTV with the SDDW YouTube videos !
Listen to podcasts and music, and browse videos on your own time (design talks, virtual studio tours, and more).
Connect with designers through the Q&A Form (to be posted September 9!), where you can submit a question directly to SDDW presenters.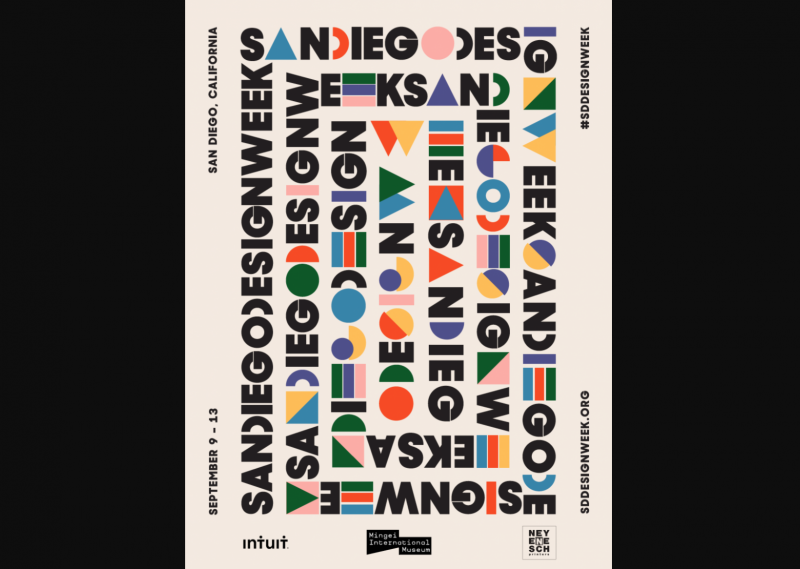 The SDDW Poster Giveaway
Receive a SDDW poster designed by BASIC!
Here's how:

Explore the SDDW self-guided tours. Post a selfie at a SDDW self-guided tour site or exterior installation to Instagram with the hashtag #outatsddesignweek
Attend online live events. A guest from each online live event will be randomly selected!
Ask great questions. The 5 best questions to presenters will be selected each day!
Host a watch party on Kast. Email a screenshot of your Kast party to info@sddesignweek.org!
The poster giveaway is open to San Diego/Tijuana residents, as the poster pickup location is at Shop Mingei at Liberty Station.

Pick up a poster on Monday, September 14 and Tuesday, September 15 12-5 pm.

Make new connections and share what you find! #sddesignweek

SDDW Instagram